1- WordPress is keeping me from commenting on most wordpress blogs the past couple weeks. So frustrating that I haven't been able to figure out how to fix it.  It says I'm not logged in correctly and won't let me log in to comment, but lets me log into my blogs just fine. Weird and uncool.
2 – The first Big Camp of 2012 starts in a few days.  Oh, heaven help me. This morning was one of those parenting mornings where I wanted to just roll around and have a tantrum on the floor with the kids, while crying and saying "I stink at this parenting thing!!  You are currently stinking at the 'good kid' thing!! We are NOT GOING CAMPING!"  Instead, I just sat in the chair while watching one kid work out his tantrum, and cried to myself.  A walk down the trail with a friend made things feel lots better.
3 – Nathan and I put the new tent up today and it is HUGE.  Huge.  12′x13′ huge. Now I'm thinking that Nathan just might've been onto something when he was worried we'd be able to find plentiful campgrounds that take huge tents. Dang.  FINGERS CROSSED and all that.
For a couple years I'd had my eye on this one kind of expensive tent, and figured if it's the last tent we need while we still have kiddos at home, it would be worth it.  That tent came in 10×10 and 10×14.  Then my dad pointed us to a few tents and we saw that this was last years on clearance for such a good deal – half off the other brands 10×10 price.  I have to say, though, while it is big enough to cause me a slight bit of worry, I'm pretty excited at all the room inside. No squished bodies, room for bags, and plenty of room for the pack and play so YEAH.
4 – The chickens had their wings cut this week.  Clarification: the chickens had their flight feathers trimmed this week.  When we told the kids that we were cutting wings Ainsley was super concerned.  Josh, though, has been thumbing through the Pioneer Woman's new cookbook,  has discovered the recipe for chicken wings, and hasn't stopped begging for them all day. He would probably be thrilled if we actually were cutting off wings.
I was so nervous – we'd been thinking about it and reading about how to do this for awhile; and all the instructions say to be really careful because if you cut too high it will cause the chicken to bleed and they can actually die from that – so go to a vet right away. Well, let me tell you this: Nathan would never agree to a vet bill for a chicken who only cost $3 initially, and that is only considered a pet by several family members. Well, if I cried enough he probably would.
The things he does for me that he said he'd never do? ENDLESS.
SO.  I didn't want to be rude and say "be really really careful please please please don't hurt my chickens!" So instead I said "I'm so thankful I don't have to remind you to please be so careful because if they bleed and die I would be so sad." I MEANT it as saying "I'm so thankful you're so careful" but I don't think it came out that way.  Whoops.
We finally decided to trim feathers because a few of these birds thought the fence we put up for them to stay INSIDE was merely a suggestion we were giving about where they'd be happiest. They decided that the green grass and garden areas were far better. We got tired of hearing kids yell "CHICKEN ON THE LOOSE" and didn't want our garden devoured while we were out of town. Freckles and Lucy are the naughtiest of the flock.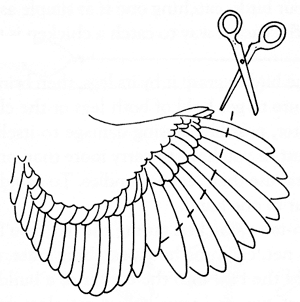 The little dotted line is where you cut.
And there is Verde with her trimmed feathers. She was never one of our best escape artists.
We had to re-trim Freckles several times because she just kept jumping out over and over again. Better to trim a small bit at a time and have to do it several times than cut too much off and lose a bird, right? (Right.) We were a pretty good tag team. Ainsley let the chicken-catching team, I held the birds and Nathan trimmed. It only took a few minutes and it looks like we'll still have chickens and a happy garden this summer. Yeah!